The Intrepid Medics and Abesu
Posted in ThirdAid
First to be featured THE INTREPID MEDICS AND ABESU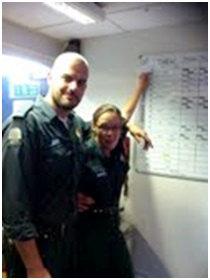 Two medics usually working for the London Ambulance Service decided they wanted to input into the health and well being of an under equipped health care service in Zambia. The health clinic is staffed by one nurse who provides services to 2,500 local households. This initiative was sanctioned by the government and the administrators of ABESU. The two intrepid medics visited to learn what specialities were needed, and to augment and set up systems to support health education, emergency care requirements and implement routine vaccination programs. Their intention is, to not only offer remedial techniques and to input life saving measures but also to help to prevent the spread of disease. Recognition of the need in this one area encouraged them to expand the service, now colleagues within the London Ambulance Service are seeking to join with them and to enable improved health care. These people who give so much are still willing to give more as and where they can.
ABESU is a charity that was set up in Wales to help administer a group of women building their own houses in Chongwe, Zambia. In It is bringing abundance to the women in Africa who have a special approach to poverty and who have a track record in helping themselves after which they help others to build brick housing. Their efforts have attracted attention as such more funds are urgently needed. AIDS and HIV have had devastating effects as a result of which one parent homes often have to stretch to accommodate extended units. As well as the one person resident with their children already. Home-making has become an art form as they nurse extended families as well as working to earn a meagre living. Building their homes brick by brick, they make each brick one at a time. The beginnings of a hospital and an IT centre have been added to the facilities but evermore is needed. Supporting those who have proved they want to help themselves is an obligation and an honour and a service that has extended to other areas such as clean water, IT education and much more.
The reason ABESU is the first one featured is that one of the medics is one of Judy Fraser's sons Andy. He is an IHCD trained and HCPC registered Paramedic currently employed by the London Ambulance Service as a solo rapid responder. He is trained in advanced life support (supraglottic airway management/cannulation) and certified to administer controlled drugs via IV/IM/Sub cut. He has worked in the Hospital environment alongside Nurses, Midwives and Doctors in Maternity, Theatre's and Accident & Emergency. He is a certified practice educator experienced in mentoring junior doctors and paramedics in pre-hospital emergency medicine. He is additionally trained in advanced pediatric emergency management, pre-hospital and neonatal life support.
The other founder medic is the daughter of parents who started ABESU. Rebecca is an Anthropology Honours Graduate who joined the University Hospital Cardiff as an Auxiliary Nurse and became an Emergency Technician in A&E. She is an IHCD trained HCPC registered paramedic with London Ambulance and has experience of treating patients presenting with CVA and STEMI'S, respiratory problems, traumatic injuries, acute medical conditions, and patients in cardiac arrest and in labour. She has completed numerous further training courses in pre-hospital trauma life support (Royal College of Surgeons), obstetrics, spinal injury, neonatal life support and infection control. She specialises in phlebotomy, cannulation, IV drug administration and endotraheal intubation.
If you choose to get involved or make a donation please contact the people listed directly.
You can make a difference by contributing financially. If you would like to help this initiative contact www.justgiving.com/IntrepidMedics
Are you already involved in something you would like to see featured in ThirdAid?
Please let Judy know: thirdaid@i-sky.net